The climate crisis is real and is impacting everyone on the planet. While the individual choice to live a sustainable life is commendable, businesses also have a critical role to play. They must help protect our planet for future generations, securing the economy, protecting their businesses and mitigating risk.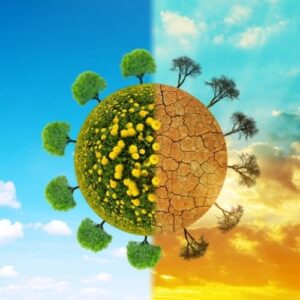 The Pentagon has recognized that climate change is a national security risk. Climate change may also present an existential business risk. If we, as business leaders, don't take action, the costs to our businesses and the economy will rise exponentially.
With President Biden's emphasis on combating climate change, the U.S. has rejoined the Paris agreement. The president has aimed to reduce greenhouse gas pollution by half by 2030. This is all movement in the right direction, but without private-sector leadership, we will fall short of these goals. The consequences of falling short are economically catastrophic. Swiss Re estimates that climate change will shave 11% to 14% off global economic output. That equates to $23 trillion in lost economic activity.
This is not a zero-sum game. As the economy shifts to a carbon-less future, enormous opportunities present themselves in the green economy. The World Economic Forum estimates that investments in sustainability now top $30 trillion. Over 80% of global consumers in the Gen Z, Millennial, and Gen X customer age groups feel that it is "extremely" or "very" important to them that companies implement programs to improve the environment. We must stop thinking about what we have to give up and see climate action as a significant way to save money, especially in terms of energy costs.
We are in the middle of the great workforce resignation. Employees do not remain with companies that do not align with their values, purpose and career goals. As Gallup found, it has less to do with pay and more to do with "engagement." In fact, 70% of employees are more likely to choose to work at a company with a strong environmental agenda, an important value that will keep them loyal.
Some major companies are taking a stand and walking the walk — but where should a company start? Ultimately, every company should have carbon neutrality as a sustainability goal. That means setting targets and measuring progress. It also means demanding that your supply chain be carbon neutral as well. Ensuring that a company is occupying space that meets high environmental standards (LEED) is a key factor as well. Residential and commercial buildings consume more than 75% of U.S. electric consumption, while steel and concrete generate about 8% of carbon emissions.
The lowest hanging fruit is the transportation sector. Per the EPA, the transportation sector is responsible for nearly 30% of greenhouse gas emissions in the United States. The good news is that the total cost of ownership (TCO) for an EV fleet saves companies money. Companies can take actions such as converting their own fleet to EVs (which will make a substantial difference), insisting that their supply chain use EV delivery vehicles, having employees rent EV vehicles only or using electric taxis and on-demand ground transportation and encouraging employees to drive EVs by installing EV charging stations at all office sites.
Having EV chargers easily accessible at workplaces will encourage EV adoption by helping diminish range anxiety. Additionally, businesses can attract talent and customers by providing convenient EV charging as they go about their daily lives. By making this process invisible and frictionless for the EV driver, people won't need to think twice about making the switch to an EV.
The bottom line is businesses need to embrace and address climate change head-on. The cost of inaction is unacceptably high. The benefits of action are reduced costs to the bottom line, employee satisfaction and new avenues of business.