By: Lillianna Byington
Reporter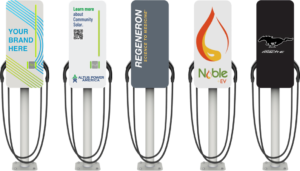 Dec. 2, 2021, 5:06 AM
The Biden administration wants to give precedence to electric vehicle charging projects that advance equity and use American-made chargers in new infrastructure spending, although its efficacy may be limited because many decisions are left up to the states.
Industry executives say they're happy that the administration is seeking input about how new spending for a national charging network should work. They want to ensure that the allocations go to a mix of different level chargers and that those charging stations are deployed where they're most needed.
"It is our intent to try to get as much of that money as possible," said Michael Farkas, CEO of Blink Charging, adding that he's hopeful the administration will listen to the industry and "use the experience of those who have done it before."
The Transportation Department, which is working on how it'll distribute $7.5 billion to electric vehicle charging projects included in the recently enacted infrastructure package (Public Law 117-58), recently posted two requests for public feedback. It's the first step in a dialogue among states, companies, and the department about how best to roll out more charging stations using federal dollars.
The infrastructure money is intended to help meet President Joe Biden's goal of deploying 500,000 electric vehicle chargers by 2030. Administration officials have touted the new law's potential to stem global warming and share the federal largesse fairly among regions and communities, but they face questions on whether the electric vehicle and charging provisions will deliver on those promises.
The law provides money for states to deploy EV chargers as they see fit, with the Transportation Department to offer guidance. How that guidance is written and applied will determine how close the electric vehicle charging effort meshes with broader climate and equity goals.
The Transportation Department is also helming a separate federal grant program under which applicants can ask for funds to support electric charging, hydrogen, propane, and natural gas fueling stations. The grants will be more prescriptive than state funding. The infrastructure law requires the department to give priority to projects that expand electric vehicle charging and eligible fuel infrastructure in rural regions and low- and moderate-income areas.
The agency, in one of its first requests for information, said it's "especially interested" in comments suggesting ways that its guidance for states and the criteria under the federal grant program "could promote equity in the deployment of EV charging infrastructure."
The department is seeking comment on recommended distances between publicly available charging stations, connections to the electric grid, and the need for chargers in rural and disadvantaged communities, among other considerations.
A spokesperson for ChargePoint said the company will answer the administration's call for comments. ChargePoint, which has one of the largest networks of electric vehicle charging stations, hopes that the government will provide a timeline for carrying out the law that reflects the challenges with local and global supply chains.
'Buy America'
The Departments of Energy and Transportation are also asking for public comment on how the Biden administration's Buy America effort—ensuring equipment is manufactured inside the U.S.—could affect its rollout of chargers.
The agencies said they're "not aware of any EV chargers currently able to meet applicable Buy America requirement for steel and iron," adding that they're "interested in promptly obtaining more information."
'Buy American' Impact on EV Charging to Be Weighed by Agencies
At least one U.S. company is ready to tell agencies what they want to hear. JuiceBar, a manufacturer of EV charging stations in the U.S., said in July that all chargers produced by the company meet the Made in America criteria. JuiceBar CEO Paul Vosper said it can be "a big advantage" to be a small business that meets those requirements because it opens doors to opportunities and the business isn't hurt by supply chain problems.
"With a Buy in America preference, we've been getting a lot of attention both from our federal delegation as well as the White House," Vosper said in an interview. "There's a desire with the federal funding, not just to bring jobs back but also to focus that money on small to midsize businesses as the engine for the economy."
Blink Charging also supports Buy America requirements, Farkas said. "Because of these programs, we are working very diligently on making" its company meet them, he said.
Farkas said his company is working to have more produced in the U.S. specifically because of Buy America. "If it wasn't for the actions of the administration and trying to accomplish this, we most likely wouldn't move towards this direction, because it wasn't cost effective," he said.
Distribution Concerns
There have been concerns raised about the distribution of charging stations. Very few states and power companies are ensuring an equitable spread of EV infrastructure money, an analysis in April by the American Council for an Energy-Efficient Economy showed.
The infrastructure law requires that states give a plan to the Transportation Department saying how they intend to use the electric vehicle charging money. The department's guidance can ask the states to include plans for equitable buildout, but it isn't clear how far federal officials can push states in that direction. If states fail to submit their plans, the department can withdraw funds.
"Clear metrics on where's this money going, who's benefiting from it, what impact it is making are all very critical," Peter Huether, ACEEE's senior research analyst for transportation and the equity report's author, said in a recent interview. The government can play a role by ensuring that there's a way for states to assess equity when they're doling out the money, he said.
Blink's Farkas said that his company believes "you have to have charging infrastructure in every area, not just in the wealthy areas. You need to have a focus on disadvantaged communities as well."
"That's something that we're involved with" by deploying charging infrastructure in low-income communities in Los Angeles and other areas in the U.S., Farkas said.
Jonathan Levy, chief commercial officer at EVgo, said that the company has been "proactively" working to provide more inclusive charging availability by using the Environmental Protection Agency's Environmental Justice Screening and Mapping tool, which shows areas of high pollution and their corresponding demographics.
The infrastructure money is only part of what the industry is watching. Companies are also waiting to see whether there will be incentives to get more electric vehicles on the road to use the chargers. Levy said EVgo, the largest public fast charging network in the U.S., supports the electric vehicle tax credits proposed in the Democrats' broad tax and spending bill (H.R. 5376) that the Senate still needs to pass.
"Just as important as helping support the infrastructure build out is helping to make sure that more drivers are going electric," Levy said.